Trysil Cemetery
Trysil-Bethesda Cemetery
Holmes City township, Douglas County, Minnesota
Contributed by the Trysil Historielag USA – Canada
June 2004. (wildweave@mac.com)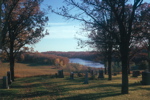 Compiled from various information sources:   cemetery records, cemetery walk-throughs, Trysil Church book, family histories, Douglas County Historical Society, Minnesota Historical Society Death Index, newspapers and the generous donations of time and materials from many individuals
Trysil-Bethesda Cemetery is located in Section 22, T127N, R39W, in Holmes City township, Douglas Co, MN. The cemetery entrance is on County Rd 26 with a sign "Trysil-Bethesda Cemetery". Cemetery is located on a small hill on the north side of the road.
The Trysil Lutheran Church and cemetery was established by immigrants from Trysil, Hedmark, Norway who settled in Holmes City township, beginning in 1867.
The Trysil Lutheran Church congregation was organized by Rev. Paul Gjermundson Østby, at the home of Hans Strandvold, on the 28th day of August 1870. Charter members were Halvor O. Strandvold, Hans H. Strandvold, H. Toraasen, Martin H. Strandvold, Anders Knutson, Ole M. Sogaarden, Halvor H. Strandvold, Per Aas, E. Østby and E. Steen (Støen). At a congregational meeting held the 22nd October 1871, it was decided to secure temporary service from Pastor I.A. Berg three times a year for the sum of $55. As this arrangement was not satisfactory to either the pastor or the congregation it was decided at the meeting held 11th April 1872 to see if the salary sufficient could not be collected to call a permanent pastor. On July 14, 1872, Pastor Christian T. Saugstad was unanimously elected as Trysil's pastor.

On November 20, 1873, the congregation received two bequests: One from A. Knudson, namely, the church yard, and the other from Halver O. Strandvold, namely the church building. The church was then new and it had cost Mr. Strandvold $600.

The congregation flourished for 92 years and was dissolved April 1, 1962, due to declining membership. The building was dismantled and the bell is now preserved on the site as a memorial to Trysil Lutheran Church. The cemetery which surrounded the church continues to be maintained and used by past members and their descendants.
Name
Birth
Birthplace
Death
Deathplace
Aas, Per Persen
25 Jul 1812
Trysil, Norway
19 Jan 1908
Holmes City, MN
Aas, True Olsdtr Nygaarden, Mrs. Per
5 Apr 1816
Trysil, Norway
3 Jul 1885
Holmes City, MN
Aasen, Guri Pettersdtr. Skjærholden
2 May 1847
Trysil, Norway
19 May 1882
Holmes City, MN
Aasen, John P.
1 Nov 1840
Trysil, Norway
3 May 1930
Holmes City, MN
Aasen, Karl Norman
8 Dec 1876
Douglas Co, MN
Dec 27 1898
Holmes City, MN
Aasen, Martha Soberg
2 May 1831
Trysil, Norway
20 Jul 1928
Holmes City, MN
Aasen, Per Johnsen
7 Aug 1869
Holmes City, MN
9 Jan 1897
Holmes City, MN
Anderson, August
11 Nov 1848
Sweden
20 Apr 1929
Douglas Co, MN
Anderson, Christian
10 Apr 1841
Hurdal, Akerhus, Norway
5 Jan 1929
Holmes City, MN
Anderson, Clarence L.
13 May 1909
Holmes City, MN
16 Nov 1978
Alexandria, MN
Anderson, DuWayne Sheldon
30 May 1969
Glenwood, Pope Co, MN
4 Jun 1969
Pope Co, MN
Anderson, Gilman K.
9 Mar 1918
Ben Wade twp, Pope Co, MN
29 May 1998
Starbuck, MN
Anderson, Gladys Marjorie Aslagson
8 Jan 1925
Holmes City, Douglas Co, MN
5 Oct 2013
Starbuck, MN
Anderson, Gunil Jorgenson
2 Jan 1861
Rushford, MN
26 May 1958
Pope Co, MN
Anderson, Jennie Marie Nygaard
26 Dec 1911
Holmes City, MN
28 Nov 1994
Mound, Hennepin Co, MN
Anderson, Kermit Gilman
28 May 1950
Glenwood, Pope Co, MN
3 Oct 2014
Douglas Co, MN
Anderson, Len E.
17 Mar 1886
Ben Wade twp, Pope Co, MN
10 Mar 1964
Glenwood, MN
Anderson, Norma V.
1945
13 Dec 1945
Hennepin Co, MN
Anderson, Norman Dan
1945
Anderson, Sarah M.
21 Dec 1891
Yankton Co, SD
30 May 1937
Starbuck, MN
Aslagson, Mrs. Ingeborg
2 May 1833
Norway
1 Nov 1910
Holmes City, MN
Axelson, Doris Genevieve
19 Mar 1917
Belle, Koochiching Co, MN
27 Mar 1917
Belle, Koochiching Co, MN
Axelson, Edna Steen
22 Jul 1896
Holmes City, MN
30 Mar 1917
Belle, Koochiching Co, MN
Baak, Dr. Leonhard E.
20 May 1909
Ricketts, IA
17 Jan 1998
Sioux City, IA
Baak, Nora Odella Solheim
25 Sep 1913
Valley City, ND
15 Jun 2014
Sioux City, IA
Berg, Adeline O. Nygaard
25 Nov 1929
Holmes City twp, MN
17 Sep 2007
Alexandria, MN
Berg, Herbert Orrin
21 Apr 1923
Minneapolis, MN
24 May 2013
Alexandria, MN
Bergesveen*, Peter O. Pederson (see Pederson)
11 Aug 1859
Norway
15 Mar 1916
Holmes City, MN
Bergesveen, Ole Olson
2 Feb 1825
Fåberg, Norway
14 Dec 1906
Holmes City, MN
Bergesveen, Ole Pedersen
15 Jul 1829
Fåberg, Norway
23 Apr 1917
Holmes City, MN
Bjorklund, Myrtis T. Nygaard
18 May 1915
Farwell, MN
20 Jan 1993
Salinas, CA
Bjorklund, Sigurd Emmanuel
19 Jun 1919
Douglas co, MN
9 Apr 1980
Santa Clara co, CA
Bonga, Harry W.
10 Sep 1902
Red Lake, MN
26 Oct 1961
Douglas Co, MN
Carlson, Rev. Erland Erick
14 Apr 1926
St. Paul, MN
24 Nov 2011
Eagan, MN
Christensen, Marie E. Isackson
19 Feb 1904
Holmes City, MN
19 Jan 1980
Minot, ND
Eiben, Eibo P.
16 Mar 1878
Benson, IL
19 Mar 1945
Alexandria, MN
Eiben, Lena Marie Mattson
7 Nov 1870
Holmes City, MN
29 Apr 1957
Alexandria, MN
Engemoen, Albert Halvors.
17 Jan 1861
Trysil, Norway
5 Dec 1882
Fargo, ND
Engemoen, Halvor H
15 Sep 1816
Trysil, Norway
9 Feb 1878
Holmes City, MN
Engemoen, Kristina Kristofersdtr vestre Lunde
18 Mar 1823
Trysil, Norway
29 Jun 1877
Holmes City, MN
Erickson, Anne Danielsdtr, Mrs. Erick
23 Apr 1836
Grue, Norway
13 Oct 1900
Lake Mary twp, Douglas Co, MN
Erickson, Erick
1 Apr 1830
Grue, Norway
28 Apr 1919
Minneapolis, MN
Fagerlie, Carrie (Kari) Olsdtr. Snitting, Mrs. Ole E
9 Sep 1846
Sogndal, Norway
5 Feb 1926
Kensington, MN
Fagerlie, Nils Evensen
7 Apr 1830
Hurdal, Akershus, Norway
25 Oct 1890
Fagerlie, Ole Evenson
24 Aug 1835
Hurdal, Akershus, Norway
1 Nov 1911
Holmes City, MN
Fagerlie, Christian Anderson (see Christian Anderson)
10 Apr 1841
Hurdal, Akershus, Norway
5 Jan 1929
Farstad, Arthur
23 Oct 1887
25 Oct 1887
Femrite, Benta Sjursdtr.
5 Aug 1820
Sogn, Norway
6 Oct 1908
Holmes City, MN
Femrite, Clara Stivland
20 May 1911
Ben Wade twp, Pope Co, MN
1 Dec 1994
Starbuck, MN
Femrite, Guro (Julia) Jelstad
1 Nov 1858
Telemark, Norway
30 Dec 1947
Holmes City, MN
Femrite, Henry Louis
28 Apr 1879
Holmes City, MN
14 Jan 1950
Starbuck, MN
Femrite, Jennie O.
26 Mar 1888
Pope Co, MN
13 Sep 1966
Glenwood, MN
Femrite, Joyce Marie
9 Jul 1944
Douglas Co, MN
9 Jul 1944
Douglas Co, MN
Femrite, Murville J.
14 Aug 1912
Ben Wade twp, Pope Co, MN
16 Feb 1998
Alexandria, MN
Femrite, Olive Olsd. Sogaarden
13 Aug 1879
Holmes City, MN
26 Feb 1961
Minneapolis, MN
Femrite, Ruth Marie Swenson
26 Aug 1921
Holmes City, MN
31 Mar 1997
Alexandria, MN
Femrite, Sander Olie
27 Aug 1891
Holmes City, MN
5 Oct 1941
Starbuck, Pope Co, MN
Femrite, Stanley Orville Gerhard
15 Jul 1910
Ben Wade twp, MN
18 May 1997
Alexandria, MN
Femrite, Syvert Olson
6 Aug 1848
Dane Co, WI
28 Sep 1922
Douglas Co, MN
Finstad, (Lillie) Olea Olsd. Sogaarden
22 Feb 1868
Trysil, Norway
23 Aug 1938
Minneapolis, MN
Finstad, Marie Beatte Sogaarden (Johnson)
7 Oct 1887
Holmes City, MN
6 Jan 1981
Alexandria, MN
Finstad, Ole Olsen
4 Feb 1887
Trysil, Norway
9 Oct 1969
Brainerd, MN
Grondahl, Martha M.
Mrs. Halvor E.
16 Aug 1856
Trysil, Norway
15 Dec 1935
Holmes City, MN
Grondahl, Halvor E.
26 Aug 1853
Trysil, Norway
4 Jun 1923
Holmes City, MN
Grondahl, Helmer John
4 Jul 1884
Holmes City, MN
6 Nov 1918
Holmes City, MN
Grondahl, John
28 Feb 1858
Trysil, Norway
19 Dec 1940
Alexandria, MN
Grondahl, Martha Mortensdtr.
30 Oct 1828
Trysil, Norway
13 Jan 1915
Holmes City, MN
Grondahl, Martin Emil
12 Jan 1889
Ben Wade twp, Pope Co, MN
18 Dec 1959
Douglas Co, MN
Grondahl, Martina Halvorson (Mrs. John)
27 Jul 1861
Trysil, Norway
27 Sep 1948
Alexandria, MN
Grondahl, Mikael (Mikkel) Johannesen
16 Dec 1833
Stange, Norway
27 Dec 1918
Alexandria, MN
Grundfossen, Pernille Jonsdtr. Søgarn Støa
11 Oct 1865
Trysil, Norway
3 Aug 1937
Holmes City, MN
Grundfossen, Carl Christoffersen
21 Jun 1862
Trandstrand, Sweden
10 Mar 1947
Cooperstown, ND
Gulbranson, Eleanor Ida Jacobson
5 Apr 1919
Evansville, MN
2 Mar 2008
Alexandria, MN
Haabala, Dale Alan
4 Sep 1959
Alexandria, MN
14 Mar 1975
Lowry, MN
Haabala, Ralph
20 Aug 1914
Moe twp, Douglas Co, MN
11 Nov 1988
Holmes City, MN
Haabala, Sylvia Jeanette
20 Aug 1924
Holmes City twp, Douglas Co, MN
23 Feb 2015
Alexandria, MN
Hanson, Anton
21 Feb 1858
Faaberg, Lillehamar, Norway
4 Dec 1938
Alexandria, MN
Hanson, Gjermund
24 Jun 1854
Femundsenden, Norway
18 May 1931
Douglas Co, MN
Hanson, Henry Olaf
10 Oct 1884
Holmes City, MN
11 Aug 1962
Minneapolis, MN
Hanson, Norman
19 Apr 1906
Farwell, MN
5 Jun 1994
Hoffman, MN
Hanson, Olina Pederson, Mrs. Anton
8 Sep 1857
Norway
8 Mar 1937
Alexandria, MN
Hanson, Ollegard Soberg, Mrs. Gjermund
7 Dec 1862
Trysil, Norway
18 Oct 1914
Douglas Co, MN
Himle, Anna Josephine
15 Jun 1877
Holmes City, MN
4 Aug 1945
Alexandria, MN
Himle, Carl Andreas
7 Sep 1865
Dane Co, WI
12 Feb 1892
Holmes City, MN
Himle, Ingeborg
1842
14 Feb 1891
Holmes City, MN
Himle, Isak Levin Larsen
19 Aug 1863
Dane Co, WI
26 Jun 1885
Holmes City, MN
Himle, Lars Nielsen
26 Jun 1837
Voss, Norway
27 Oct 1920
Brandon, MN
Himle, Nils
12 Jan 1862
Dane Co, WI
18 Feb 1888
Holmes City, MN
Himle, Oscar L.
9 Oct 1868
Dane co, WI
17 Jul 1890
Holmes City, MN
Isackson, Dordi Mauseth
29 Sep 1869
Bursa, Norway
4 Apr 1938
Holmes City, MN
Isackson, Anna Barbara Larsdtr Ballestad
28 Mar 1826
Gjerpen, Norway
16 Nov 1900
Holmes City, MN
Isackson, Anton
14 Feb 1867
Waupaca, WI
16 Jan 1899
Holmes City, MN
Isackson, Doran L.
26 Mar 1938
Holmes City twp, MN
26 Sep 1989
Westbrook, Cottonwood Co, MN
Isackson, Evelyn Claire Gulbranson
25 Dec 1912
Holmes City twp, MN
6 Jul 1981
Alexandria, MN
Isackson, Gerhard J.
11 Mar 1908
Holmes City twp, MN
10 Jan 1993
Fargo, ND
Isackson, Isack Larsen
31 Aug 1857
Waupaca, WI
3 Feb 1936
Holmes City, MN
Isackson, Karen Gurine
23 May 1861
Waupaca, WI
17 Aug 1890
Wahpeton, ND
Isackson, Karen Anna L.
8 Aug 1890
Wahpeton, ND
6 Oct 1891
Holmes City, MN
Isackson, Lannie
23 Oct 1901
Holmes City twp, MN
27 Aug 1976
Holmes City, MN
Isackson, Lars
9 Oct 1820
Skyer, Gjerpen, Norway
8 Dec 1885
Holmes City, MN
Isakson, Isak
18 Dec 1818
Gjerpen, Norway
3 Sep 1881
Holmes City, MN
Isakson, Martin
9 Mar 1859
Wisconsin
4 Nov 1882
Holmes City, MN
Jelstad, Halvor Jorgenson
15 Jan 1827
Kviteseid, Telemark, Norway
7 Sep 1906
Ben Wade twp, Pope Co, MN
Jelstade, Tone T.
1827
Kviteseid, Telemark, Norway
2 Aug 1888
Alexandria, MN
Johnson, Alma Mattson (Mrs. Oscar)
12 Sep 1884
Douglas co, MN
30 Oct 1968
Alexandria, MN
Johnson, Andrew Randolph
23 Feb 1876
4 Sep 1898
Johnson, Anna, Mrs Magnus
1840
Norway
30 Jan 1904
Ben Wade, Pope Co, MN
Johnson, Elsie Olivia
11 Dec 1903
Ben Wade twp, Pope Co, MN
18 Dec 1903
Ben Wade, Pope Co, MN
Johnson, Enock
15 Mar 1871
Manskog, Varmland, Sweden
27 Feb 1942
Lowry, MN
Johnson, Inez Jeanette
8 Jul 1906
Lowry, MN
10 Apr 1999
Glenwood, MN
Johnson, Johnnie
11 Nov 1882
Lowry, Pope Co, MN
10 Oct 1935
Pope Co, MN
Johnson, Leonard Marvin
8 Aug 1915
Pope Co, MN
11 Dec 1964
Alexandria, MN
Johnson, Magnus
28 Jan 1843
Gunnarskog, Sweden
13 Jan 1932
Douglas Co, MN
Johnson, Marit Halstensdtr, Mrs. Peter
11 Dec 1842
Sweden
22 Mar 1929
Ben Wade, Pope Co, MN
Johnson, Martin
20 Jan 1874
7 Jan 1897
Johnson, Martin I.
24 Dec 1871
Madison, WI
5 Aug 1954
Alexandria, MN
Johnson, Orvin Harold
28 Feb 1914
Lowry, MN
10 Jul 1973
Holmes City twp, MN
Johnson, Oscar John
3 Jul 1881
Minnesota
28 May 1916
Starbuck, Pope Co, MN
Johnson, Paul Odell
6 Jun 1929
Ben Wade twp, Pope Co, MN
10 Jun 1929
Ben Wade twp, Pope Co, MN
Johnson, Pauline Peterson, Mrs. Martin
26 Mar 1880
Faaberg, Norway
3 Aug 1934
Lake Mary twp, Douglas Co, MN
Johnson, Peter
16 Jul 1838
Rorbacknas, Lima, Sweden
2 May 1925
Douglas Co, MN
Johnson, Thea Marie Nygaard, Mrs. Enock
19 Nov 1878
Ben Wade twp, Pope Co, MN
14 Aug 1970
Glenwood, MN
Johnson, Willie Hjalmer
5 Sep 1892
Minnesota
25 Sep 1903
Ben Wade, Pope Co, MN
Jorgenson, George
17 Oct 1866
Ben Wade twp, Pope Co, MN
19 Jun 1942
Ben Wade twp, Pope Co, MN
Jorgenson, Henry T.
19 Jan 1891
Ben Wade twp, Pope Co, MN
29 Oct 1980
Pope Co, MN
Jorgenson, Jonart E.
18 May 1907
Ben Wade twp, Pope Co, MN
23 Aug 1970
Lowry, Pope Co, MN
Jorgenson, Maret Torve, Mrs. George
17 Jul 1871
3 Jan 1963
Ben Wade twp, Pope Co, MN
Jorgenson, Martin Edwin
26 Nov 1895
Ben Wade twp, Pope Co, MN
15 Feb 1972
Alexandria, MN
Jorgenson, Mary
23 May 1898
Ben Wade twp, Pope Co, MN
27 Feb 1993
Starbuck, Pope Co, MN
Karle, Lillie (Mrs. Oscar)
7 Feb 1886
Douglas Co, MN
5 Apr 1927
Denver, CO
Knudson, Andrew
23 Oct 1843
Hemsedal, Norway
25 Apr 1924
Brandon, MN
Knudson, Andrew
24 May 1911
Brandon, MN
8 Jun 1955
Reedsport, OR
Knudson, Arthur
27 Feb 1896
Holmes City, MN
26 Jun 1899
Holmes City, MN
Knudson, Christina
16 Feb 1878
4 Jun 1891
Knudson, Dorthea Mauseth
14 Oct 1864
Surendalen, Norway
29 Mar 1941
Farwell, MN
Knudson, Gunder
1 Aug 1823
30 Oct 1883
Knudson, Mary Ann
5 Sep 1859
2 Jul 1877
Knudson, Matte
29 Dec 1875
26 Oct 1894
Knudson, Mette Halvorsdtr. Strandvold
16 Oct 1848
Trysil, Norway
19 Apr 1882
Holmes City, MN
Knudson, Ruth L.
20 Mar 1904
Holmes City, MN
17 Oct 1916
Brandon, MN
Lanigan, Jeremy Jay
27 Jun 1976
Starbuck, MN
17 Nov 1986
Minneapolis, MN
Lanigan, John R.
30 Jan 1953
Alexandria, MN
24 Aug 2011
Leven twp, Pope co, MN
Lindseth Sigurd Harold Myhr
28 Aug 1923
Silverton, OR
19 Jan 1945
Guam in the Pacific
Lindseth, Sigurd Julius
25 Mar 1883
Romsdalen, Norway
20 Jun 1968
Alexandria, MN
Lindseth, Agnes Jeanette
4 Aug 1919
Watertown, SD
5 Aug 1919
Watertown, SD
Lindseth, Helga Manda Myhr
5 May 1893
Holmes City, MN
5 Oct 1973
Lindseth, Luther PH. A.
29 Dec 1924
Silverton, OR
21 May 1929
Ada, MN
Lindseth, Luther PH
26 Jul 1916
Farwell, MN
26 Jul 1916
Farwell, MN
Lindseth, Miriam R.
23 Oct 1932
Lindseth, Sigurd Harald
5 Oct 1917
Farwell, MN
5 Oct 1917
Farwell, MN
Lordalen, Carl John
29 Aug 1888
Lowry, MN
10 Feb 1974
Starbuck, MN
Lordalen, Carlos J.
2 Oct 1927
Lowry, MN
13 Oct 2010
Alexandria, MN
Lordalen, Emma Christine Johnson
2 Jan 1900
Holmes City twp, MN
26 Sep 1987
Douglas Co, MN
Lordalen, Gjermund
5 May 1852
Trysil, Norway
3 Apr 1935
Holmes City, MN
Lordalen, Gustav Ingvald
4 Jan 1891
Lake Mary twp, MN
24 Nov 1945
Holmes City, MN
Lordalen, Hilda Pearl Heikkinen
15 Nov 1908
Holmes Ctiy, MN
19 Mar 2004
Minneapolis, MN
Lordalen, Ingri Christine
30 Nov 1880
Trysil, Norway
21 May 1962
Bemidji, MN
Lordalen, Ingri Christoffersdtr Grundfossen
10 Mar 1856
Trandstrand, Sweden
7 Sep 1926
Lake Mary twp, Douglas Co, MN
Lordalen, Ole (infant)
Mattson, Amund (Amund Mattisen Sundsbakken)
26 Apr 1833
Hof, Solør, Norway
16 Apr 1909
Holmes City, MN
Mattson, Charles A. (Kristian Amundsen)
10 Jan 1864
Trysil, Norway
11 Dec 1931
Anoka, MN
Mattson, Kaisa Johnson
29 Sep 1829
Askorsborg, Sweden
8 Apr 1918
Holmes City, MN
Mattson, Karen Aletta Amundsdatter
1873?
LaGrand twp, Douglas Co, MN
29 May 1934
Holmes City, MN
Mattson, Martha (Johanna Mathea Amundsdtr)
22 Jun 1858
Trysil, Norway
25 May 1952
Alexandria, MN
Mattson, Minnie Amundsdtr
28 Oct 1874
LaGrande twp, Douglas Co, MN
24 Oct 1959
Douglas Co, MN
Mauseth, Annie L. Femrite
12 Jul 1884
Holmes City, MN
3 Apr 1971
Fort Worth, TX
Mauseth, Gertrude
30 Nov 1831
Holten, Surndalen, Norway
7 Jul 1907
Holmes City, MN
Mauseth, Ole
1877
Surnedalen, Norway
26 Apr 1918
Montana
Moe, Lyle (Delmore)
17 Apr 1930
Solem twp, Douglas Co, MN
24 Jan 2013
Willmar, Kandiyohi Co, MN
Moe, Marie Jenson
1814
1902
Moe, Todd DeLyle
11 Aug 1962
Willmar, MN
7 Jun 2006
Atwater, MN
Monson, baby
1925
Monson, baby
1918
Monson, Curtis Wilbur
29 Mar 1914
Munich, ND
10 Oct 1928
Fargo, ND
Monson, Jane / Jeane?
11 Jun 1921
Fargo, ND
23 Jun 1921
Fargo, ND
Monson, Roger Odin
19 Aug 1919
Holmes City, MN
9 Sep 1921
Fargo, ND
Monson, Sherman Soberg
1916
2 Apr 1917
Ardoch, ND
Mortenson, Maria
1841
Norway
14 Aug 1877
Ben Wade twp, Pope Co, MN
Myhr, Hilde Priscilla
1 Jul 1897
Holmes City, MN
9 Dec 1977
Alexandria, MN
Myhr, (Millie) Amelia Caroline Roth
13 Oct 1911
Carlos, Douglas Co, MN
23 Jan 1993
Douglas Co, MN
Myhr, Guro Mrs.
ca 1817
Selbu, Norway
7 Dec 1911
Douglas Co, MN
Myhr, Hanna H. Strandvold
4 Feb 1860
Trysil, Norway
19 Nov 1932
Holmes City, MN
Myhr, Harold T.
6 Apr 1912
Holmes City, MN
24 Oct 2001
Alexandria, MN
Myhr, Helga Maria
11 Sep 1885
Holmes City, MN
7 Mar 1889
Holmes City, MN
Myhr, Henry Olaf
25 Apr 1880
Farwell, MN
28 Aug 1939
Alexandria, MN
Myhr, Karl Albert
9 Jun 1887
Holmes City, MN
31 Oct 1918
Holmes City, MN
Myhr, Louella Elvira Foslien
11 Aug 1912
Moe twp, Douglas Co, MN
4 Jun 2014
Alexandria, MN
Myhr, Martin Konrad
19 Dec 1898
Holmes City, MN
21 Sep 1952
Alexandria, MN
Myhr, Peder O.
11 Jun 1854
Stjørdalen, Norway
2 Jun 1932
Holmes City, MN
Myhr, Reuben Bennett
16 Oct 1907
Holmes City, MN
7 Mar 1998
St. Cloud, MN
Myhr, Tillie Olette Femrite
28 Apr 1882
Holmes City, MN
7 Jul 1966
Alexandria, MN
Nordby, Johanne Paulsdtr Grambo
1 Jun 1861
Trysil, Norway
17 Jun 1937
Alexandria, MN
Nordby, Torgal Persen
20 Sep 1862
Trysil, Norway
12 Jan 1916
Holmes City, MN
Nygaard, Agnes Jennie
9 Oct 1920
Lowry, MN
23 Mar 1922
Lowry, MN
Nygaard, Arline A. Olson
24 Dec 1925
Starbuck, MN
31 Dec 2004
Starbuck, MN
Nygaard, Clara Bertina Christianson
2 Aug 1889
Walden twp, Pope Co, MN
11 Jun 1954
Douglas Co, MN
Nygaard, Clifford
23 Nov 1914
Ben Wade twp, Pope Co, MN
1 Jun 1997
Alexandria, MN
Nygaard, Elmo Jernal
13 Dec 1919
Farwell, MN
21 Jul 1972
Kensington, MN
Nygaard, Henry Johan
11 Feb 1877
Ben Wade twp, Pope Co, MN
26 Oct 1938
Pope Co, MN
Nygaard, Ida Hestetun
7 Jan 1848
Norway
25 May 1926
Pope Co, MN
Nygaard, Inez Agnes
1 May 1922
Ben Wade twp, Pope Co, MN
6 May 1922
Pope Co, MN
Nygaard, Jennie Olivia
23 Oct 1888
29 Apr 1889
Nygaard, Jens A.
7 Sep 1853
Lyster, indre Sogn, Norway
2 Sep 1929
Ben Wade twp, Pope Co, MN
Nygaard, Johanna Bjørk, Mrs. Joseph
6 Aug 1886
Loeten, Norway
9 Apr 1959
Starbuck, MN
Nygaard, Johnnie O.
3 Dec 1912
Lowry, MN
27 Dec 1975
Ottertail Co, MN
Nygaard, Joseph
27 Jun 1950
Alexandria, MN
28 Jun 1950
Douglas Co, MN
Nygaard, Joseph Norman
29 May 1881
28 Jun 1964
Douglas Co, MN
Nygaard, Julian Oliver
7 Feb 1921
Farwell, MN
9 Jul 2004
Starbuck, MN
Nygaard, Margorie Russell, Mrs. Johnnie
26 Feb 1924
Morris, MN
10 Oct 2000
Fergus Falls, Ottertail Co, MN
Nygaard, Mary
28 Jan 1913
Minnesota
26 Apr 1926
Holmes City, MN
Nygaard, Norma Geneva
10 Nov 1916
11 Feb 1917
Douglas Co, MN
Nygaard, Olive S. Christianson, Mrs. Oscar
26 Oct 1893
Walden twp, Pope Co, MN
27 Jan 1960
Douglas Co, MN
Nygaard, Oscar J.
7 Feb 1891
Lowry, MN
11 Aug 1980
Glenwood, MN
Omland, Muriel V Paulson
30 Jul 1913
Storden, Cottonwood co, MN
25 Apr 2008
Alexandria, MN
Omland, Oliver
16 Mar 1900
LaGrand twp, Douglas Co, MN
8 Oct 1962
Douglas Co, MN
Omland, Peder Tonnes
30 Apr 1869
Fjertland, Sogn, Norway
7 Apr 1956
Douglas Co, MN
Omland, Regena Christianson (Mrs. Peder)
8 Mar 1869
Holmes City, MN
27 Jul 1944
Douglas Co, MN
Pearson, Amos
22 Aug 1886
England
3 Feb 1969
Beltrami Co, MN
Pearson, Olive Lordalen (Mrs. Amos)
23 Mar 1894
Douglas Co, MN
24 Nov 1977
Alexandria, MN
Pederson, Andrew O. (Bergesveen)
1 Nov 1860
Lillehamar bysokn i Fåberg, Norway
24 Jul 1945
Glenwood, Pope Co, MN
Pederson, Anne Olsdatter (Bergesveen)
20 Jun 1834
Fåberg, Norway
29 Jul 1910
Holmes City, MN
Pederson, Caroline Steen, Mrs. Adolph
21 Nov 1866
Trysil, Norway
28 Apr 1903
Pederson, Karen K, Mrs. Christian
26 Sep 1839
Fåberg, Lillehamar, Norway
8 Aug 1930
Farwell, MN
Pederson, Kristian (Christian)
24 Oct 1838
Storsven, Norway
2 Oct 1902
Holmes City, MN
Pederson, Peter O. (Bergesveen)
11 Aug 1859
Lillehamar bysokn i Fåberg, Norway
15 Mar 1916
Holmes City, MN
Pederson, Anne Bertine, Mrs. Salve
4 Jul 1847
Fjotland, Vest Agder, Norway
10 Jan 1914
Douglas Co, MN
Peterson, Inga
16 Feb 1878
Lillehamar, Norway
28 Jul 1954
Alexandria, MN
Peterson, Magna (Maggie) Grondahl, Mrs. Frank
25 Apr 1883
Trysil, Norway
24 Dec 1903
Alexandria, MN
Pederson, Salve Andreas
27 Jul 1841
Fjotland i Kvinesdal, Vest Agder, Norway
25 Oct 1915
Holmes City, MN
Reece, Oliver C.
30 May 1909
Billings, MT
4 Oct 1959
Douglas Co, MN
Reece, Agnes Heldora
18 Aug 1914
Madelia, MN
6 Mar 1920
Madelia, MN
Reece, Albertha Olsdtr. Sogaarden
20 Oct 1882
Holmes City, MN
22 Apr 1957
Alexandria, MN
Reece, Andrew Arneson
17 Mar 1873
Strandebarm, Hordaland, Norway
29 Mar 1943
Douglas Co, MN
Reece, Jeannette L.
1 Aug 1957
Ashland, WI
20 Sep 2005
Alexandria, MN
Reece, Leif Arnold
11 Oct 1916
Madelia, MN
5 May 1921
Alberta, MN
Reece, Marcus Paul
29 Oct 1918
Madelia, MN
26 Dec 2007
Douglas Co, MN
Rise, Cecelia Hansdtr Brekke
13 Mar 1841
Strandebarm,Hordaland, Norway
22 Sep 1920
Douglas Co, MN
Rolfsrud, Beverly Brown
1920
Hettinger, North Dakota
26 Jan 2015
Bloomington, MN
Rolfsrud, Erling Nicolai
3 Sep 1912
Keene, North Dakota
21 Aug 1994
Douglas Co, MN
Saugstad, Christian Randolph
28 Apr 1877
Holmes City, MN
21 Jan 1879
Holmes City, MN
Saugstad, Randine Johnsdtr. Kvernstuen
26 Apr 1837
Biri, Oppland, Norway
28 Apr 1877
Holmes City, MN
Saugstad, Theodore
11 Feb 1874
Holmes City, MN
13 Feb 1874
Holmes City, MN
Schonberg, Jesse Tobias
2013
Soberg, Bennett O.
17 Aug 1901
Holmes City, MN
26 Jan 1975
Alexandria, MN
Soberg, Bertha Olsdtr. Tørberget
8 Aug 1808
Trysil, Norway
12 Jun 1908
Holmes City, MN
Soberg, Gerald Erving Percibald
2 Dec 1921
Holmes City, MN
18 Dec 1921
Holmes City, MN
Soberg, Halvor O.
2 Dec 1857
Trysil, Norway
31 Dec 1939
Alexandria, MN
Soberg, Ingrid Olsdtr Gobakken Westby, Mrs. P.O
1 Aug 1853
Trysil, Norway
19 Jan 1891
Ben Wade twp, Pope Co,
Soberg, Luella Violete
29 Apr 1895
Ben Wade twp, Pope Co, MN
18 Sep 1895
Ben Wade twp, Pope Co, MN
Soberg, Ole
24 Jan 1888
29 May 1933
Holmes City, MN
Soberg, Ole Persen
20 Mar 1833
Trysil, Norway
24 Oct 1913
Douglas Co, MN
Soberg, Oline Olsdtr. Westby (Mrs. P.O.)
8 Jan 1864
Trysil, Norway
16 Dec 1945
Alexandria, MN
Soberg, Per Olsen
14 Sep 1856
Trysil, Norway
20 Feb 1934
Holmes City, MN
Soberg, Pernille Halvorsd. Sølund
16 Jul 1829
Trysil, Norway
24 Oct 1903
Holmes City, MN
Soberg, Ragna Julia Isackson
23 Aug 1898
Douglas Co, MN
22 Dec 1921
Holmes City, MN
Soberg, Sarah Pauline Myhr
22 Mar 1903
Holmes City, MN
1 Aug 1960
Douglas Co, MN
Sogaarden, Albert
19 Nov 1880
Holmes City, MN
9 Sep 1881
Holmes City, MN
Sogaarden, Martin Olsen
19 Sep 1866
Trysil, Norway
9 May 1944
Holmes City, MN
Sogaarden, Ola Mattisen Skjærberget
1 Feb 1843
Trysil, Norway
19 Aug 1899
Holmes City, MN
Sogaarden, Olaf
10 Oct 1874
Holmes City twp, MN
29 Jul 1893
Holmes City, MN
Sogaarden, Oline Persdtr Grambo
30 Apr 1845
Trysil, Norway
13 Aug 1929
Holmes City, MN
Sogaarden, Peter
29 Jul 1870
Holmes City twp, MN
15 Feb 1946
Minneapolis, MN
Solheim, Gea Helene Sogaarden
24 Feb 1885
Holmes City, MN
30 Dec 1941
Eagle Bend, MN
Solheim, Elling Severin
3 Mar 1880
More & Romsdal, Norway
23 Jun 1955
Long Prairie, MN
Steen, Bertina Olsdtr Soberg, Mrs. Ole
21 Feb 1860
Trysil, Norway
2 May 1912
Holmes City, MN
Steen, Einar O.
1 Apr 1869
Trysil, Norway
11 Jun 1941
Douglas Co, MN
Steen, Engebret E.
5 Mar 1824
Trysil, Norway
13 Sep 1897
Holmes City, MN
Steen, Gina Jensson
9 Mar 1886
Trysil, Norway
3 May 1979
Alexandria, MN
Steen, Kari Olsdtr. Støa
8 Jul 1825
Trysil, Norway
30 Aug 1914
Holmes City, MN
Steen, Ole Embretsen
19 Sep 1845
Trysil, Norway
5 May 1906
Holmes City, MN
Steen, Oscar Sygvald
20 Sep 1902
Holmes City, MN
8 Sep 1929
Starbuck, Pope Co, MN
Steen, Petra Olsdtr
16 Apr 1890
Holmes City, MN
25 Oct 1891
Holmes City, MN
Steen, Petronelle Pedersdtr, Mrs. Ole
30 Apr 1847
Våler, Norway
28 Sep 1876
Minneapolis, MN
Strandvold, Marie H. Tuven
2 Feb 1806
near Meråker, Nor-Trøndelag, Norway
13 Jan 1896
Harwood, ND
Strandvold, Halvor Olsen
30 Jul 1807
Trysil, Norway
18 Jan 1877
Holmes City, MN
Strandvold, Hans Halvors.
18 Sep 1834
Trysil, Norway
26 Jan 1898
Holmes City, MN
Strandvold, Helga Hansdtr
3 Jun 1863
Trysil, Norway
21 Apr 1891
Holmes City, MN
Strandvold, Ragnhild Audsdtr Nysæteren
17 Nov 1834
Trysil, Norway
30 Dec 1916
Holmes City, MN
Swenson, Ole Knute
23 Jul 1850
Hemsedal, Norway
25 Dec 1897
Holmes City, MN
Swenson, Kristie (Christina)
22 Aug 1849
Norway
2 May 1908
Lowry, Pope Co, MN
Telle, Marie Adine Hanson Mrs. Earl
19 May 1894
Holmes City, MN
6 May 1939
Rolette co, ND
Thoen, Andrew Ericksen
9 Mar 1844
Drammen, Ringerike, Norway
11 Nov 1933
Farwell, MN
Thoen, Emil
1885
Farwell, MN
20 Jul 1928
Montana
Thoen, Herman Ericksen
14 Mar 1884
Holmes City, MN
22 Oct 1917
Camp Dodge, IA
Thoen, Johanna Mattson, Mrs. Andrew
5 Jun 1855
Sweden
22 Mar 1925
Holmes City, MN
Thompson, Angona
18 Sep 1843
Voss, Norway
19 Jan 1891
Holmes City, MN
Thompson, Nels
Feb 1832
Norway
4 Dec 1891
Holmes City, MN
Tinsley, Marian Foster
11 Jun 1913
Geneva, New York
12 Sep 2000
Morris, Stevens co, MN
Vee, Alice Hilma
19 Aug 1922
Farwell, MN
18 Dec 2007
Glenwood, Pope co, MN
Vee, Helen Selvina
22 Jul 1920
Holmes City, MN
5 Aug 1920
Holmes City, MN
Vee, Helga Beatte Hanson (Mrs. Soren)
28 Mar 1892
Holmes City, MN
6 May 1942
Pope Co, MN
Vee, Malvin Orvis
9 Aug 1918
Farwell, MN
9 Jun 1985
Alexandria, MN
Vee, Olger Gerhard
8 Sep 1915
Farwell, MN
29 Oct 1990
Alexandria, MN
Vee, Soren Olaus
26 Jan 1887
Sang?, Norway
23 Mar 1952
Solem twp, Douglas Co, MN
Westby, Peter (Petter O.)
22 Nov 1850
Trysil, Norway
10 Apr 1922
Douglas Co, MN
Whitaker, Cora E Nygaard
24 Sep 1917
Holmes City, MN
11 Feb 2006
Morris, MN